About our Field
The Air Force allows EAM to use a portion of the abandoned runway at Test Site C-3 for a flying field. This area is closed to the public, but club members and spectators are authorized access to the flying site only for RC model flying. Other uses are not permitted (i.e. model rockets, hunting, etc.).
To locate the field, go North from Niceville on Hwy 285. Exactly three miles north of College Blvd. is the gate to Test Site C-3. Turn left to enter the site. Inside the gate of Test Site C-3 is a blue sign (Eglin Aero Modellers) on the left with an unpaved access road.Members and guests must not go north beyond the access road to the EAM site.
Follow the unpaved road to the left to the EAM club gate; if it is open, follow the road through the woods to the paved taxiway. Before noon turn left and follow the taxiway to the EAM flying site pit area. After noon cross the taxiway and follow the road to the runway. Cross the runway and go left following the tree line to the flying site pit area.
Note: Do not drive on the improved runway surface (the dark strip between "EAM" and "Field" on the map)!
You could seriously harm our runway by doing so.
If you're thinking about visiting us at the field, it would also be a good idea to familiarize yourself with the EAM Field Rules! We look forward to seeing you there.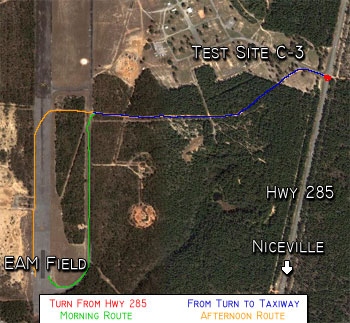 ---
Google Maps - Directions to the EAM Field
Click here for directions to the field